The
Ultimate
Collectible
"it is also probably the best reproduction of that prop ever offered."
-- The Trek Collective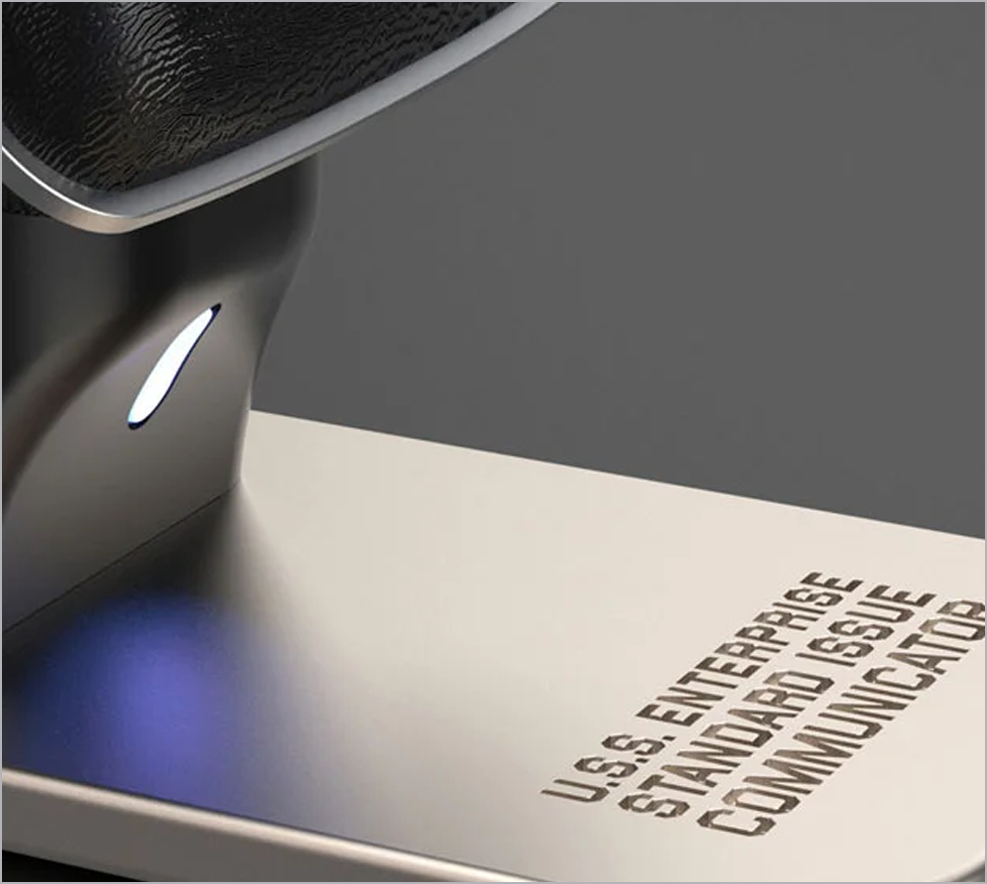 Ultimate Collectible
Whether you have just discovered Star Trek or have been hooked since you were a kid, this Communicator is something that you just have to own. Researched, designed and built with fanatical attention to detail, the simplicity of its embossed, die-cast, magnetic, wireless charging stand presents and charges this iconic piece with style.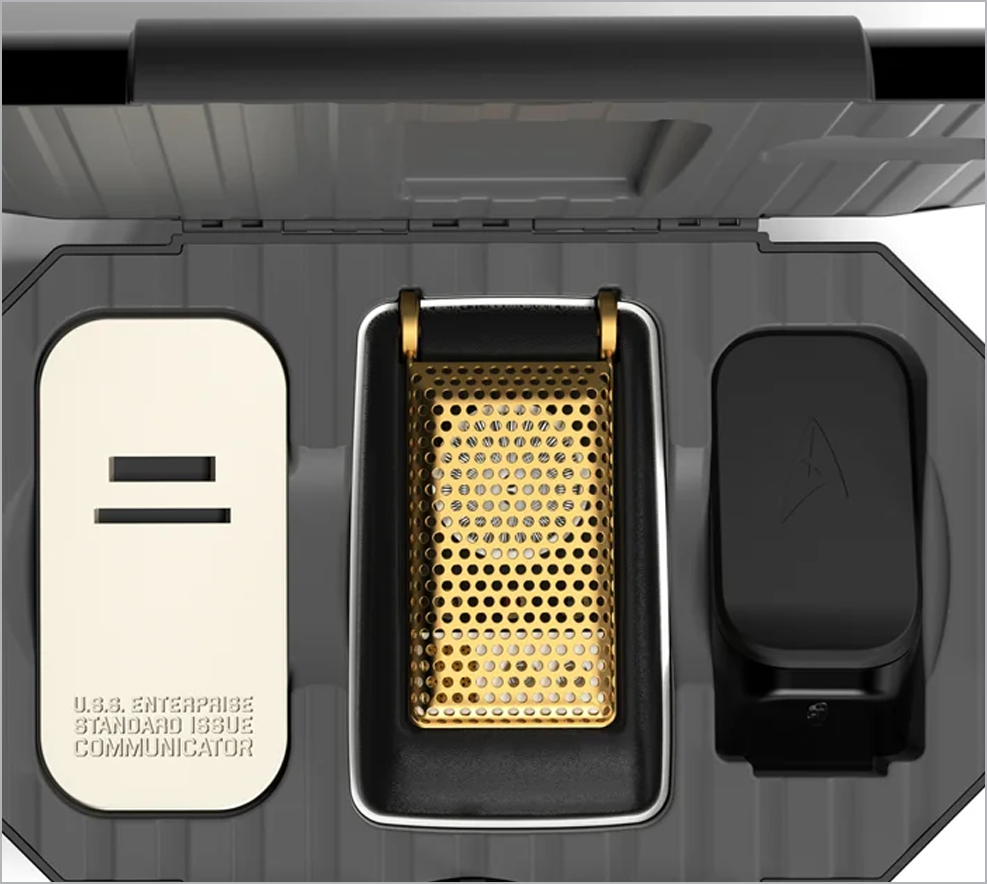 Beautifully Presented
The Communicator prop replica is protected from damage and kept in pristine condition (when not on display) in a high quality, moulded-foam-lined presentation case. Manufactured in hard-wearing engineering-grade ABS, the case is also designed to stack as if supplied from the original Enterprise. When on the move, a leatherette pouch protects it from scuffing.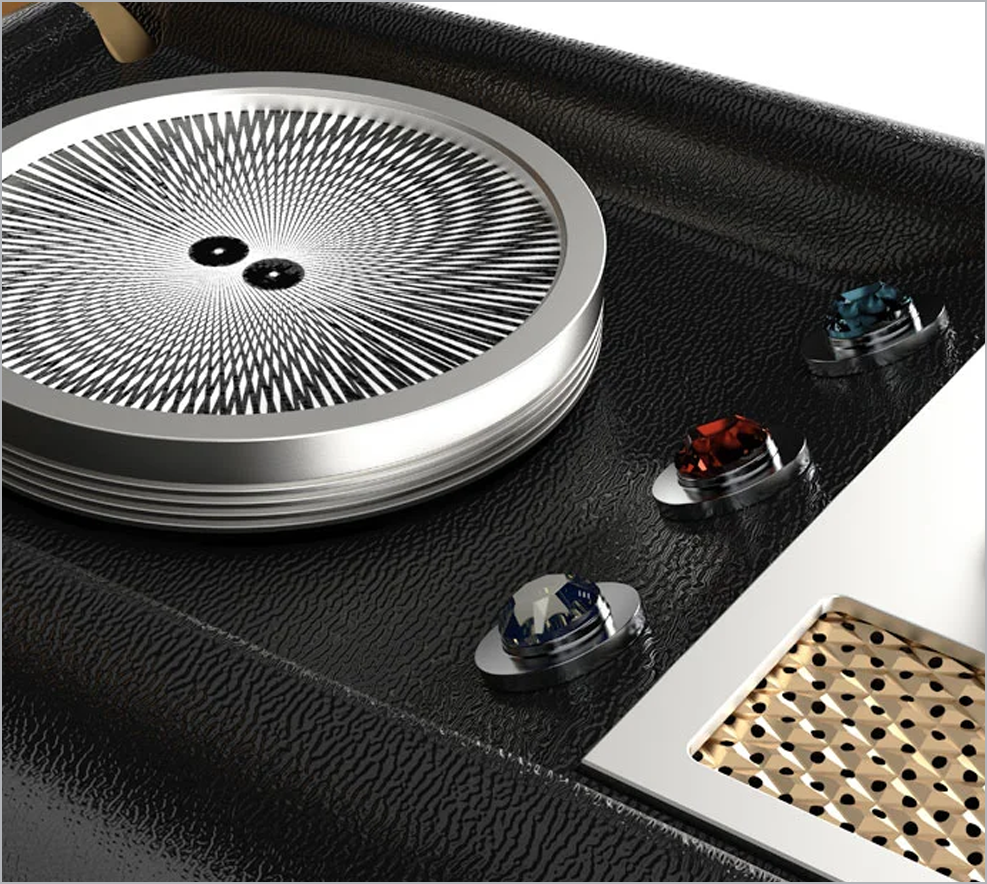 Quality Materials
High-quality materials are brought together to create an exceptionally well-finished Communicator replica that looks and feels like it means business: CNC-machined aluminium; nickel-plated die-cast zinc; punched, pressed and welded steel; thermoplastic polyurethane rubber; ABS plastic with a digitally created texture.
Additional Product Details
The exclusive Star Trek: The Original Series Communicator is a fully functioning Bluetooth handset compatible with all Bluetooth enabled devices worldwide, such as mobile phones and music players. With its contactless charging stand, high-quality MEMS microphone and large speaker, it doubles as a hands-free kit and a desktop Bluetooth speaker. To mark Star Trek's 55th anniversary, the Wand Company's premium Original Series Communicator replica is back, with all new voice clips.
Product Details:
Highly accurate: Created from 3D scans of the original hero prop with 3D texture mapping to replicate hero prop surface finish  

Fully working Bluetooth handset: Easy to pair with any Bluetooth compatible mobile phone – authentic flip-to-answer action.

Immersive play features: Authentic voices and sound FX from the Star Trek universe.

Contactless charging: Magnetic desktop display stand. Built in Lithium polymer battery.

High Quality: Highly realistic construction, with die-cast zinc and CNC machined aluminum components, plus iridescent coated jewels.
What's in the box?
Star Trek: Original Series Bluetooth Communicator

Magnetic wireless charging stand

Micro-USB charging cable

Leatherette slip cover

Illustrated user instructions

Protective foam lined transit case wit

h exclusive 55th Anniversary art.